According to a statement issued by President Uhuru Kenyatta, the 75-year-old Lucy Kibaki passed away on Tuesday, April 26, while undergoing treatment at Bupa Cromwell Hospital in London.
It is with deep sense of sadness and loss that I have learnt of the untimely death of the Former First Lady Her Excellency Mrs. Lucy Kibaki.

— Uhuru Kenyatta (@UKenyatta) April 26, 2016
She passed away early this morning while undergoing treatment in Bupa Cromwell Hospital in London.

— Uhuru Kenyatta (@UKenyatta) April 26, 2016
On behalf of all Kenyans & my Government I convey heartfelt condolences & encouragement to His Excellency Hon Mwai Kibaki, family & friends.

— Uhuru Kenyatta (@UKenyatta) April 26, 2016
Lucy Kibaki was admitted at Nairobi Hospital on the night of Thursday, March 10, 2016 after falling ill at her home in Muthaiga.
Reports indicated that she was first taken to Gertrude Children's Hospital before being transferred.
The family's spokesman Ngari Gituku had dismissed reports that Lucy Kibaki was suffering from heart complications and breathing problems.
He said her ailment was related to atrophy, a condition that mostly occurs in old age. It is a state involving wasting away or decrease in size of an organ or tissue in the body.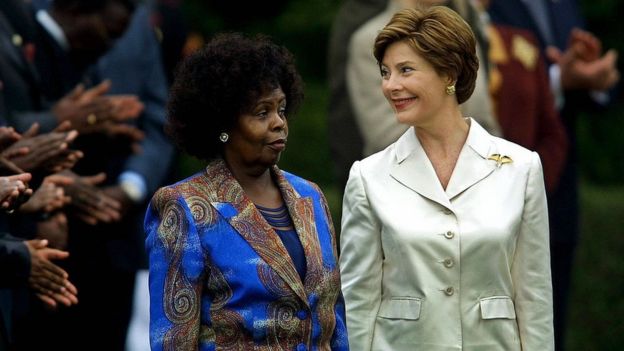 Mrs Kibaki, who was born in 1940, had withdrawn from public life during the latter part of her husband's rule.
She was last seen at a public function was in August 2010, when she seemed excited about the adoption of a new constitution, dancing to a famous gospel song, Kenya's Daily Nation newspaper reports. Mrs Kibaki trained as a teacher, leaving her job not long after her marriage in 1962 to raise her four children.
*** FOR ANDROID SMARTPHONES ONLY ***
Download Ghana Music the easiest, fastest and best way using the new XplicitGH Music App
The easiest and quickest way to download all the latest Ghana music is out now, download the apk, install the app and start downloading music, it is as easy as that. We will keep the app updated to serve you better. If you have any questions, comments or feedback to give on the app, chat with us on
0267884910

.